Thai Passport
The Thai passport is the passport issued to citizens and nationals of Thailand by the Passport Division of the Department of Consular Affairs within the Ministry of Foreign Affairs.
To apply for a Thai passport, The applicant is required to appear at the Royal Thai Embassy in person.

The processing time is approximately 4-6 weeks (depending on the production process in Thailand)
An appointment is required for passport application at the Royal Thai Embassy, Oslo.
In the event that the applicant wishes the embassy to send the passport by mail.
Please prepare a protective envelope. (Luftputekonvolutt) size not more than 25 x 35,3 cm with 260 NOK stamp attached.
The embassy will send it as "Rekommandert brev" only.
read more here: Rekommandert brev

The embassy don't sell envelopes and stamps. it must be purchased at Posten.
Required document(s) for an adult (20 years of age and above)
Valid Thai National ID Card (if invalid, please contact the Embassy for ID renewal)


THAI PASSPORT APPLICATION FORM


Current passport (In the case of a lost or stolen passport, a police report in English is required)


Name or surname change certificate (must be from Thai authorities only.) (if applicable)


Marriage or Divorce Certificate (if applicable)

Required document(s) for minors (under 20 years of age)
Thai Birth Certificate


Valid Thai National ID Card for minor over 7 years old.


THAI PASSPORT APPLICATION FORM


Thai House Registration of minor and parents


Valid Thai National ID card of parent's


Current passport of parent's


Parent's Marriage Certificate or Certificate of child custody


Other relevant documents
Fee(s)
FOR 5 YEARS PASSPORT: 350 NOK*
FOR 10 YEARS PASSPORT: 500 NOK* ONLY ADULT CAN APPLY FOR 10 YEARS PASSPORT

*PASSPORT FEES CAN ONLY BE PAID BY CASH ONLY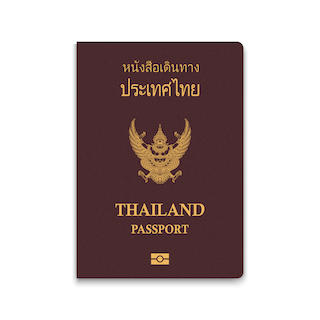 Book an appointment for Thai Passport
Downloadable Form(s) / Document(s)